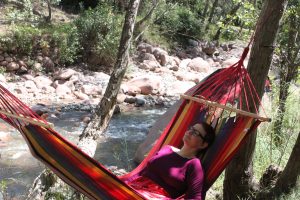 Morocco is ideally suited for a break of a few days, at 3 hours flying from England. The small-scale and personal resort of Salama Ayurveda (Marrakech) is our home base. It is beautifully located in the mountains of the Toubkai National Park. The Happinez magazine called it 'A Place to Grow Quiet'. Read it here on the Facebookpage of Salama Ayurveda.
The resort is a 45-minute drive from central Marrakech, which also makes it easy for you to visit this nice and colorful city. If you want to, because the rest of Salama Ayurveda is delicious.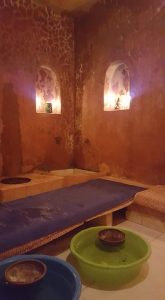 Everything is arranged for you so you can relax completely. What about a hammam treatment or a foot bath and massage in the middle of nature?
The program
4 full board stays,
3 treatments (body massage, hammam, foot massage),
4 mindfulness meditations,
(1 45-minute coaching interview to integrate mindfulness into your daily life, optional not included in the price).
Also included
Airport transfers (you will be picked up and brought with a private driver)
Standard room with separate bathroom / toilet with hot water
Discount on accommodation (already calculated in total price and valid only for customers Travel to Clarity).
20% discount on published prices of excursions and other treatments by Salama Ayurveda. TIP: A walk to a Berber village and drinking tea there. Or drive to the village of Imlil and taking a walking over a goat path on the back of a mule to 2200 meters height (beautiful views).
Exclusive
Air travel (so you're free to stay longer).
Cancellation and travel insurance
Coaching (Living Mindful). This is optional and pre-arranged or on-site (75 euro 45 minutes)
Drinks (non-alcoholic)
Data
Summer retreat 2017: Saturday 2 September – Wednesday 6 September 2017 (fully booked)
Autumn retreat 2017: Wednesday 22 November – Sunday 26 November 2017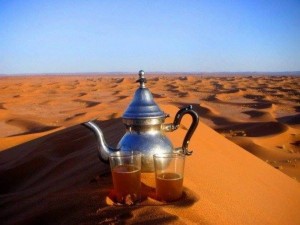 Number of persons 4 to about 10. If you travel alone, you always have the opportunity of having a chat or taking a trip to e.g. Marrakech as a group. The resort also offers you the opportunity to find a quiet spot on your owns. It's all up to you!
Optional: 2-day extension, so you can spend a whole week in this lovely place. For example, visit a Berber market and cook your own meal with the purchased ingredients.
Do you have your own group of at least 4 people? Introduce your data to us and we will make a great proposal for you.  Smaller groups are possible at an additional fee.
Prices
€ 620, = p.p.- twin room, full board incl. 3 wellness treatments, excluding flight,
€ 760, = p.p. – private room, idem
Booking /information
Make your reservation by sending us an e-mail or use it for further information: info@claritycoaching.nl or telephone us: +31 6 40 38 16 40 (Titia de Vries).
A retreat needs  a minimum of 4 persons.  If you like a smaller group, you'll pay a small additional amount .